Freemasons of Calabar Lodge No. 3434 EC have donated nose masks and hand sanitizers to the Federal Road Safety Corps (FRSC), Cross River State Command as part of measures to ameliorate the fight against COVID-19 pandemic.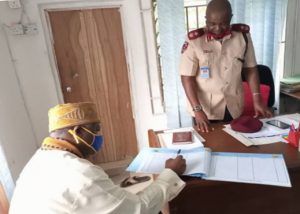 The items for the gesture according to the Worshipful Master of the Lodge, Wbro Godwin Egbe (Jnr) came from the District Grand Lodge of Nigeria under the leadership of Right Worshipful Brother Dr Onyechi Ikpeazu OON, SAN, FCArb – the District Grand Master of Nigeria.
He further stressed that "the United Grand Lodge of England which the District Grand Lodge of Nigeria derives her authority, places a strong emphasis on Charity as shown in her charitable activities over her more than 300 years of existence as a Grand Lodge". As he puts it "Charity is part of the DNA of Freemasonry all over the world".
The Freemasons charity outreach which took place at the Cross River State Command of FRSC, Calabar yesterday, was as a result of the recent reopening of state borders and the record of cases which is now counted in Cross River State.
Speaking before making the presentation to the FRSC, a District Officer of The District Grand Lodge of Nigeria who also doubles as a Trustee of Calabar Lodge No. 3434EC ,HRM Etinyin Dr Etim O.Edet (Paramount Ruler of Bakassi and the Chairman of Cross River State Traditional Rulers Council) emphasized that men of the FRSC are always on the frontline and the time we are in, is not a good time because they have a high tendency to get infected easily, therefore the donation of nose mask and hand sanitizers is very pertinent at this point in time.
He reiterated that FRSC plays a very important task on our highways and interstate link roads and as such, they come in contact with a lot of persons which puts them at risk of possible contacting the virus. He explained that "the basic principles of Freemasonry rest on a tripod of Brotherly Love, Relief and Truth. They are inextricably interwoven and we interpret Brotherly Love and Relief as Charity.
Therefore, Freemasons express their commitment to charitable activities both for the distressed Brethren and for the wider community" as also exemplified in the last major Charity when Calabar Lodge No.3434EC donated Wheelchairs to University of Calabar Teaching Hospital and General Hospital Calabar in December 2019.
Responding on behalf of the FRSC, Benedict C. Akune (DCC), Head of Operations, CRS command, commended the Calabar Lodge 3434EC for their kind gesture. He noted that FRSC is doing its best to ensure that commuters maintained all the recommended protocols while moving around with vehicles. According to him, "we believe in FRSC that the task of averting the ugly trends of road traffic crashes is essential and this is rooted in the conviction that every man/woman born into this life has a right to live.
Not a live under pity, not a live that has been messed up by COVID-19 but a good live. If life has duplicate, I don't think I can go for the duplicate, I will remain with the original". Adding, "what you have done today will further push us to do this work which we have taken the responsibility of doing and to do it fine and that no organization has done this type of donation to FRSC in Calabar in recent times and that it is timely and welcomed, he also stressed that with these, when my men are going on patrol, I will make sure that everyone has this in his/her pockets. So that when you touch somebody's keys and you're done with the vehicle, you sanitize your hands. We will also share the face mask though we have our customized own but just to remember what Freemasons have done for the Command and I am assuring you that the Corp Marshal will hear of this".
Also present at the presentation event were a number of other members of the Calabar Lodge No.3434 EC including the lodge Secretary, WbroEsinjo Francis Edet, who also doubles as one of the District Officers.